Day 1.  Wrocław - Kłodzka Dales 
Arrival to Wroclaw Airport.  Meeting with tour-guide and driver. Transfer to Klodzka Dales situated in south-west of Poland ad famous from mineral springs, unique microclimate and famous from sanatoriums and spa resorts.  Welcome candlelight dinner at one of palaces or spa hotels in Klodzka Dales.
Day 2. Kłodzka Dales 
In the morning meeting with local guide. Private tour of Klodzka Dales including B??dne Ska?y Reservation, the Sculp Chapel in Czermna, health resorts of Kudowa Zdroj, Polanica-Zdroj  and Duszniki Zdrój incl.  Museum of Papermaking and Chopin manor house. Later transfer back to your hotel for dinner and overnight.
Day 3. Kłodzka Dales – Osówka / riese project – Książ Castle  - Świdnica - Karpniki Castle 
Morning check-out and departure. If you are interested in IIWW and mysteries of this region, you can visit the Osowka underground town with local guide. Later transfer to Ksiaz for private tour of magnificent castle.  Later visit the unique Church of Peace in Swidnica and listen to an organ concert. Arrival to beautiful hotel located in tiny castle.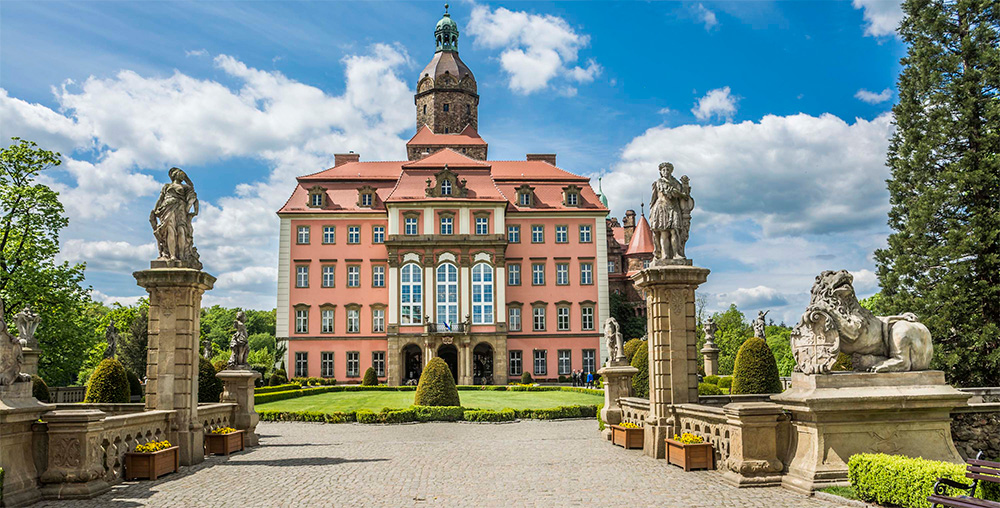 Day 4. Karpniki Castle
Enjoy your day in Karpniki Castle. You may walk in the park or use the castle's spa treatments.
You can also choose of one of local excursions for example:

an excursion to Karkonosze Mountains and Karpacz resort. We suggest a walk to the Wang Temple and listen to the organ music concert. If you like walking in beautiful mountain scenery you can continue your excursion to Samotnia shelter, situated at Little Pond in Karkonosze Mountains.
a private tour of Julia Glassworks including workshop of creating a glassy beauty

Polish Crystal – "the secrets of polish glass"
Enter the world of crystal in the historic factory located in the heart of Karkonosze Mountains.
Julia Glassworks is a place where history, the beauty of glass works of arts and the manual production process interweave!
The Factory was established in 1866 by Fritz Heckert. It is the oldest active production facility for crystal glass in the Sudeten Mountains.
When sightseeing with a guide, you will experience the exceptional process which crystal glass production undoubtedly is. A tourist route leads through numerous departments, among others places where experienced glass blowers blow and form hot glass mass and literally conjure up crystal glass products for visitors to see. Going further, you will see a number of other interesting workplaces – from polishing, decorating crystal glass with beautiful ornaments to quality control and intricate packaging process.
Those more inquisitive will also have a chance to become creators of glassy beauty. Uncover the secrets of hot glass formation and traditional art of glass decoration.
On the factory premises there are two manufacturer's show rooms which have a delightfully wide range of crystal glass products on offer.
Day 5.  Karpniki Castle – Wojanów Palace -  Łomnica Palace  - Wrocław
Morning departure for Wroclaw. En route stop in nearby Wojanow and Lomnica palaces.    
At the manor there's a possibility to buy wonderful handmade souvenirs (made from fibre flax), Boleslawiec pottery. As well there's a bakery on the farm. In late afternoon arrival to Wroclaw.
Day 6. Wrocław
Meeting with local guide for a private half-day walking tour of Wroclaw. The program includes:  Main Market Square, Solny Square, Leopoldin's Hall and Ostrow Tumski. Evening at leisure.  Dinner on your own. (B)
Day 7. Wrocław – Departure
Free time in Wroclaw. Transfer to Wroclaw Airport for your flight.